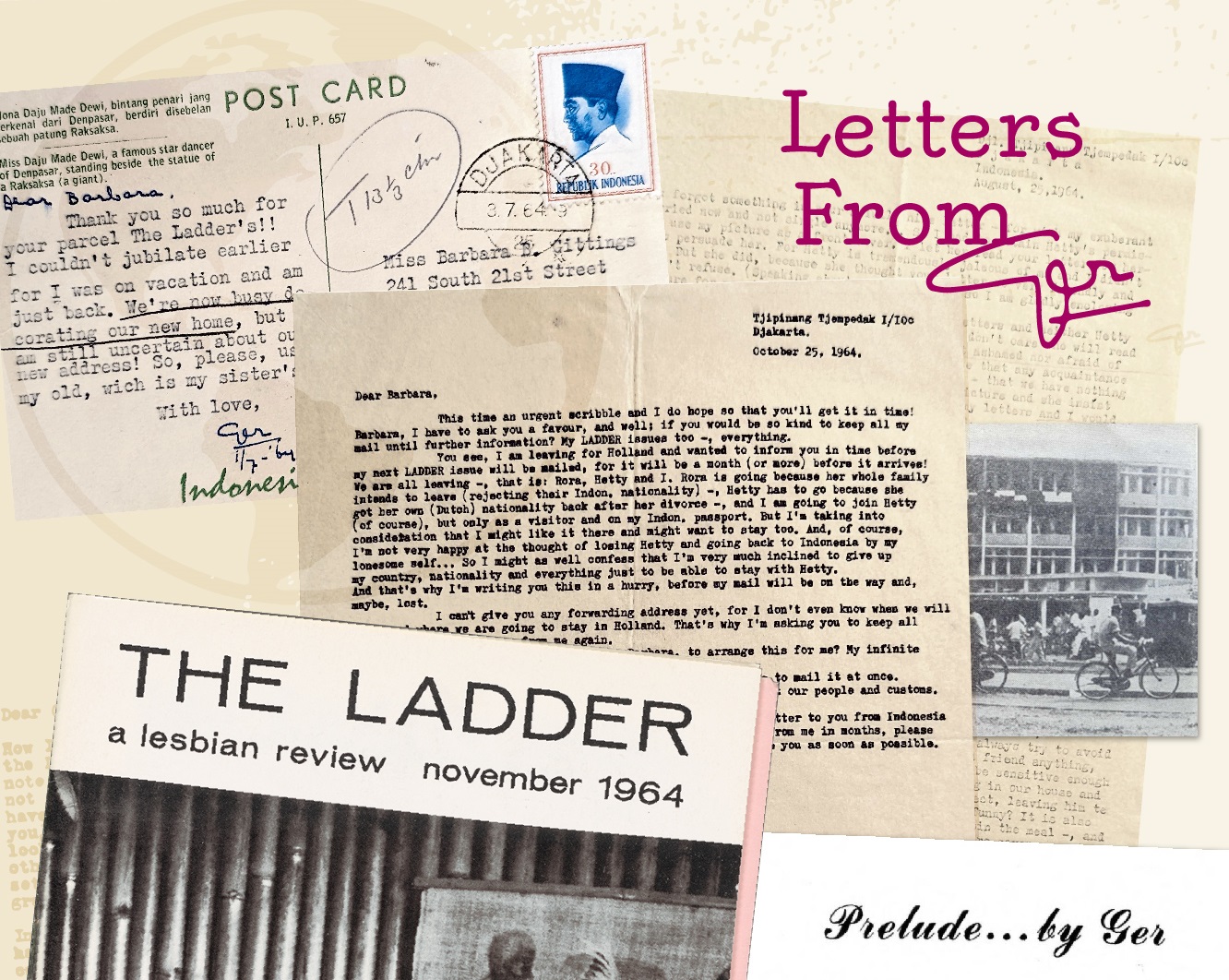 Letters from Ger – An Introduction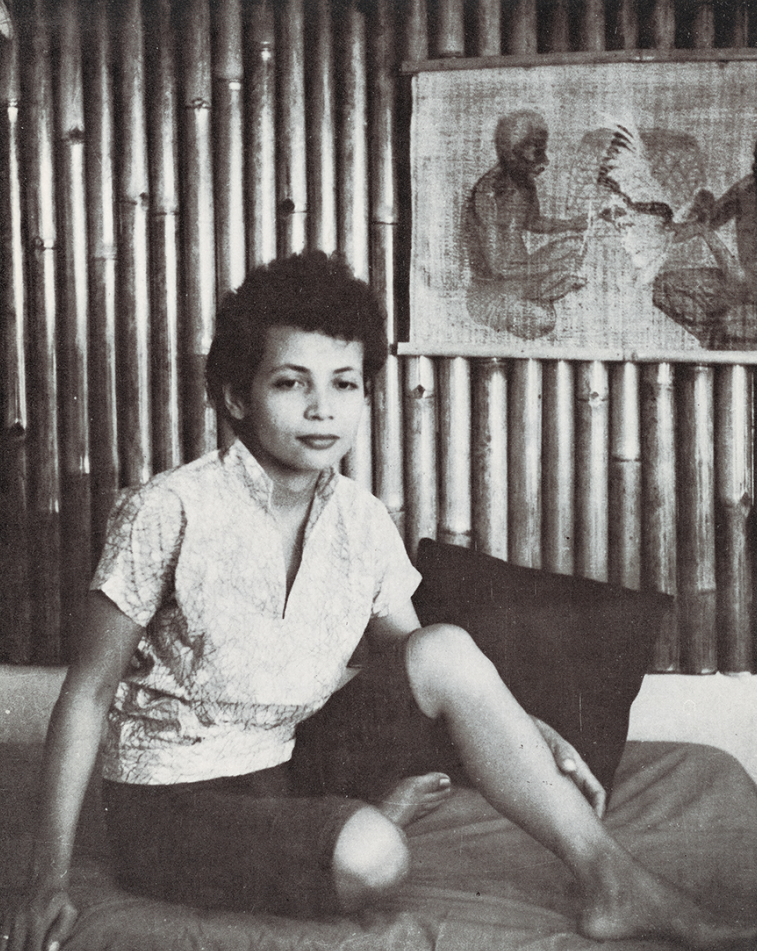 Ger, by Rora, 1963 as published in The Ladder, vol. 9, no. 2, November 1964
Queer feelings cannot be detached from the complexity of how queerness is categorized in history, which labels it as a failed existence, or even nonexistence. The Homophile movement and the Daughters of Bilitis (DOB) was developed during a repressive wave in the United States, which happened between the early 1940s to the 1960s. The Lavender Scare, a systemic hunt by the state for gays and communists working in the government, resulted in their dismissal or forced resignation. Homosexuals were considered threats to national security and secrets. They were seen as possessing abnormal mental conditions, making their existence a failure. The repression extended to gays working in the police, military, businesses, and even raids in various bars.
The Ladder, a lesbian magazine published by the DOB, became a means for its organizers to build a lesbian identity amidst evident rejection by society. The Ladder could be found in places selling cheap publications like pharmacies or bus stations, alongside other publications such as sensationalized journalistic reports about homosexuality as a "deviation" or "pocket books" with covers sexualizing lesbians for the satisfaction of cis heterosexual men.
Feelings of isolation and alienation were not only evident in the daily lives of lesbians in the United States but also in the life of Ger van Braam, an Indonesian lesbian woman of Dutch heritage born in Jakarta. In her correspondence with Barbara Gittings, the editor of The Ladder, Ger, who wrote in English, talked about the palpable heteronormativity experienced through the pressures of marriage, especially for women. Ger divorced three months into her marriage, a decision she was able to make due to her economic independence and education. She couldn't deny that the stigma of being a spinster further emboldened the sense of isolation among lesbians, pushing them to marry men, even if they had good jobs.
Ger's letters to Barbara reveal her desire to attach herself to the idea of family. Not her biological family – which made her the "black sheep." But to the family she chose for herself: living with her sister, who doesn't pry into her personal affairs, living with Rora, her friend, as her roommate, and moving to a new residence with Rora and Hetty, her girlfriend. Ger truly admired Hetty's honesty and bravery in ending her marriage by confessing to her husband that she was lesbian and in love with a woman. Living with Hetty and Rora made Ger feel comfortable, no longer needing to hide within the ideal cisgender heterosexual family structure. She said, "there are now three of us together sharing the same feelings. Isn't it just wonderful??!"
The feeling of alienation certainly doesn't disappear immediately because the value of heterosexuality continues to operate. Although in public spaces people may not care about two women or two men holding hands, the word "homo" becomes an insult that shows disgust towards queerness as a failed and abnormal existence. Insults are directed towards men who wear "women's clothing" and have different physical appearances, towards men who dress too femininely, and towards women who dress too masculinely. During a gathering with her gay friends, Ger, who appeared feminine, was initially not believed by her male gay friend that she was a lesbian because they looked "dead-normal," as Ger expressed.
The friendship between Ger and Barbara is a feminist attachment. It is an attachment based on personal and collective queer feelings of isolation and alienation. This attachment leads to critical awareness and forms of activism that enable them to challenge and dismantle a world that continuously legitimizes cisgender heterosexual values. Barbara requested that Ger's letters and photos be published in an edition of The Ladder. Ger and Hetty were delighted that their names would not be censored in The Ladder, including Rora, who took photos of Ger. Ger talked about the lesbian books she read, which helped her recognize her own identity and feelings, but also highlighted the difficulty of obtaining such books. Barbara planned a "Book for Ger" campaign among The Ladder's readers in the US to donate English-language lesbian books. Ger was enthusiastic about receiving them and planning for the books to pass from one hand to another, reaching all the women she knew, including her sister, who had become a nun. "I want to say it with books, to let them think it out for themselves," Ger said.
Reading Ger and Barbara's letters is a reflective journey about queer feelings and their role in opening up possibilities to contest a system that continually negates and erases queer identities and feelings. To embrace these possibilities, it is essential to acknowledge queer feelings from the very beginning.
Yulia Dwi Andriyanti
Yulia Dwi Andriyanti, or Edith (she/they), is a queer person, writer, researcher, community advocate, and counselor. For the past fifteen years, they have been actively involved in developing organizations for young people at the intersection of faith and sexuality, feminist-queer organizations, and cooperatives for LGBTQ+ individuals. They also serve as an advisor to a regional feminist organization. Their latest education achievement is a Master's degree in Gender, Sexuality, and Queer Studies from the University of Leeds, UK.
Edith has published works in various formats such as writing, videos, and storytelling. Some of their publications include "Children of Srikandi" (2012), "Feminist Narratives Breaking the Binary" (2019), "The Weighty Longing of the Cat" (2020), "Anthology of Self and Everything Surrounding It" (2021), and the feminist storytelling of Indonesian Syarifah Sabaroedin (2018, 2022). They have a strong interest in exploring and documenting various feminist-queer thoughts and feelings.
Since 2020, Edith has focused on queer care practices and theories. They have been involved in various community practices such as WeSIS (Well Being, Self-Care, and Integrated Security) managed by the Institute for Women's Empowerment, dynamic movement meditation practice of the 5Rhythms tribe, Points of You method, and Tapas Acupressure Techniques (TAT). In 2023, Edith was selected as a Radical Love Fund fellow by Mama Cash to develop Queerinlife.
Edith can be reached through @queerinlife or https://queerinlife.com/